Tired of smelling like a rack of rotten onion? Tired of the sweat patch on the underarm of your shirt? Then, you are at the right place.
In this article, we will talk about both scented and unscented antiperspirants, you can choose whatever suits you the best. So, without any delay, let's start.
List of best antiperspirant for men
Secret Scent Expressions Clear Gel Antiperspirant & Deodorant Truth or Pear Scent
It is scented and the scent can interfere with your perfume.
No residue? Most of the men who use an antiperspirant complain about the residue it leaves behind, but with Secret scent you don't have to worry about it at all.
It has a pretty strong scent (compared to other antiperspirants) that fills you with the amazingly refreshing feeling and it sticks with you for pretty long hours.
I would say this product does the work of an antiperspirant and a deodorant quite well. An exception can be a very hot and humid summer day, but other than that you don't have to re-apply it on the same day.
Duration:
It will block the sweat all day but you won't carry the scent for that long.
Residue:
No. The formulation is clear and absorbs well.
Scent:
Yes. And, I would say after using it, you'll like it more for its scent.
Dove Men+Care Antiperspirant & Deodorant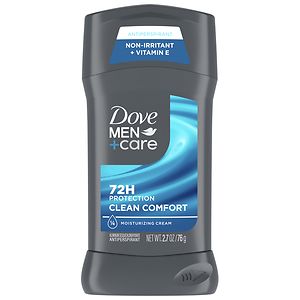 While using this product you don't have to worry about staining your clothes unless you apply in very large quantity. One of the many mention worthy qualities of this men's antiperspirant is that it doesn't constantly feel wet in your underarms.
The effectiveness might depend upon many other factors, like your skin type or hormonal level.
So, for many of you this antiperspirant might last for the day and for some of you it might last for only few hours. It has a clean and fresh fragrance that is not overpowering.
Duration: Almost the entire day.
Residue: Although it leave a little residue behind but not enough to bother you.
Scent: It smells almost like the dove soap. So, if you use Dove soap, it will go well with it.
Right Guard Xtreme Defense 5 Antiperspirant Deodorant Stick, Arctic Refresh
After applying it, you'll have chilling sensation. It is a highly suggest this product if you live in a hot place. It is best antiperspirant for men for summer season but it can also be used in winter if you want that coolness.
As for the antiperspirant part, it passes with flying colours in that department. The company claims 72 hours protection from wetness, but depends upon person to person.
Duration: 48-72 hours of odor protection.
Residue: No noticeable residue.
Scent: Clean and fresh ocean scent.
Arrid XX Antiperspirant/Deodorant Solid, Unscented
 This antiperspirant is unscented and hence doesn't at all interferes with your cologne. This product really works and is a well deserved item to this list but it is a hard to find, especially in stores. But, you can find it online.
This product excels in every aspects except the residue it leaves behind.  It does the work of keeping you dry quite effectively and at that price it is a winner's deal.
Duration: It is at its best even after 8 hours of applying it.
Residue: It does leave residue and in some cases might even stain the clothes.
Scent: It truly has a scent that smells like "absolutely nothing".
Mitchum for Men Roll on Anti-Perspirant & Deodorant, Unscented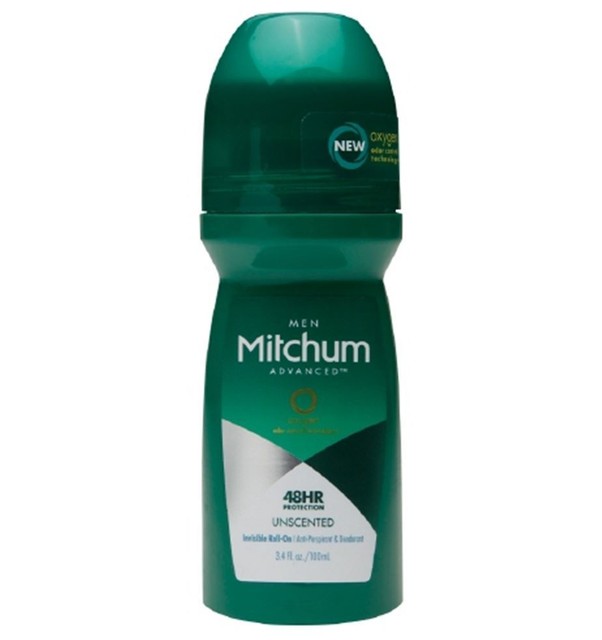 I would say that Mitchum is the richer brother of Arid. But it doesn't leave residue nor it stains your clothes. But, this antiperspirant would cost you almost double of Arid.
Although, it is also an unscented antiperspirant but you can still smell a hint of fragrance. But, the scent is very weak and most probably won't interfere with your cologne.
This product is also available in the gel form but stick is better. It is more effective and can be applied smoothly.
Duration: Almost all day.
Residue: It doesn't leave any residue or stain your clothes. So, a good product for expensive clothes.
Scent: Unscented.
SweatBlock Antiperspirant – Clinical Strength
It is the best antiperspirant for men available in the market. The king of all the antiperspirants. You have to use it only once in a week.
It is basically a set of patches, you can to apply these patches on your underarm.
You get 8 patches!
You can go gyming, swimming, or you can take shower, it won't effect its effectiveness.
Duration: Keep your dry for 7 days.
Residue: No residue is left behind. Apply it in the night.
Scent: The scent is very mild and fades ways even more within a few seconds.
 Secret Clinical Strength Advanced Solid Antiperspirant & Deodorant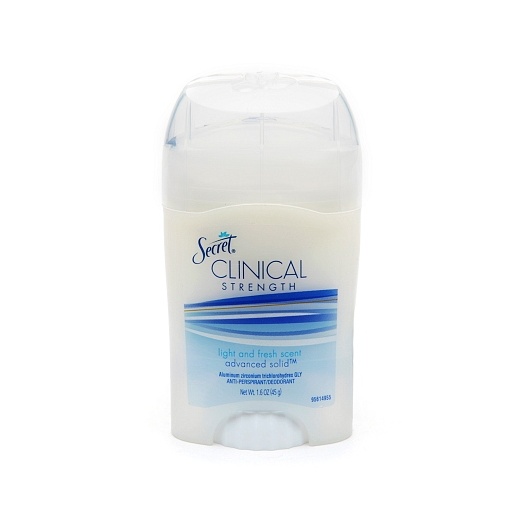 This antiperspirant is especially recommended for any men who have sensitive skin. In 99% of the cases this product is completely irritation free.
It is healthier than other antiperspirant as it doesn't contain aluminium chloride free product.  Most of the prescription antiperspirant are very effective but they can cause irritation as they have aluminium chloride in them.
But in spite of that Secret clinical strength gives protection similar to a prescription product.
Now, let's talk about its effectiveness. The company advises you to apply it in the night and it will keep you sweat free till the other night, even if you shower in the morning. This is one of the best antiperspirants for men available in market.
Duration:
I would say it can last for up to 48 hours depending upon your skin type.
Residue:
A little bit but not enough to bother most of the men.
Scent:
It has a nice fresh scent that goes well with both men and women.
Vichy Anti-Perspirant Treatment 48 Hr
What is in a name? Well, in this case it is "48 hours." And, you should believe them on this one. If you are a man who don't mind spending $15 for an antiperspirant then there is nothing better than this product. It has no flaws that a regular antiperspirant has.
For example, it really keeps you dry for 48 hrs, it doesn't leave any residue, in doesn't stain your precious clothes, it doesn't cause rashes.
The two Con's of this products are the Cost and the Quantity. But, it is worth it. You won't really understand the difference until you apply both of them together. So, on one arm apply Vichy and on the other arm apply your normal cheap antiperspirant and by the end of 48 hours you'll see the clear difference.
Duration:
48 hours.
Residue:
Almost no residue.
Scent:
It does have fragrance but not a very strong one.
Axe White Label Antiperspirant, Forest Invisible Solid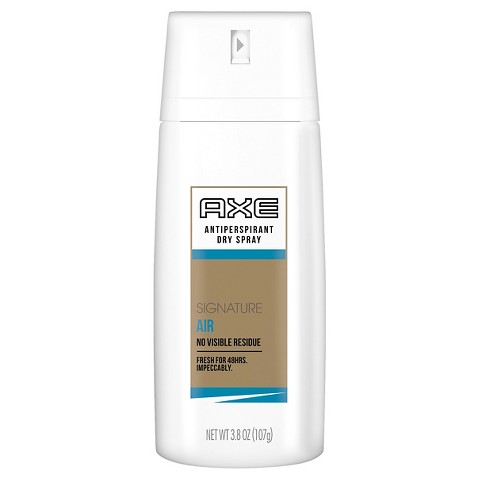 First of all, AXE itself declared that it is the best antiperspirant for men by AXE. 48 hours of dryness is guaranteed by the company, so is delivered.
This deodorant won't completely stop perspiration but it surely minimizes it. But, as for controlling body odor, there is no loop hole in that department.
In fact, the dry down period of this deodorant will surprise you and in a good way(rarely expected from AXE product). It is a must try product, especially considering it's price.
Duration: Wetness protection for entire day, fragrance will stick with you for 5-6 hours.
Residue: No residue.
Scent: Mild fragrance enhances body odor protection power.
Old Spice High Endurance Aerosol Pure Sport Scent Men's Anti-Perspirant & Deodorant
 If you are a man who likes an antiperspirant and deodorant in one, then you'll like this. When you use this you won't need a cologne. The sporty crispy fragrance will make you more confident and upbeat. The only drawback it has is its's availability, many times you'll see that it is out of stock, well that says something about its popularity.
Duration: Fragrance and wetness protection will last all day long, probably a little less in summers.
Residue: Yes, it does leave a little white residue.
Scent: Manly fragrance that is the trademark of Old spice products.
Donna Karan Cashmere Mist Deodorant / Anti-Perspirant
Wanna feel little extravagant? This antiperspirant might help you with that. This is the most expensive antiperspirant in this list. But the question is, whether it is worth its cost.
You can look at it this way, it has a fragrance that can match any expensive cologne. So, it is an antiperspirant and a cologne. I think it can be a good deal if you can afford it.
This deodorant have this classy fragrance that will speak for you. And for antiperspirant part, it is needless to say that it's performance justifies it's price. But, be aware of the cheap duplicates that are available in the market.
If you are spending so much, rather than buying it online you should buy it from a store, where you can smell it before buying.
Duration: The antiperspirant part will make you odor-free and the scent part will induce greatness in you.
Residue: No residue.
Scent: It smells royal.
These were among the best antiperspirants for men available in the market. As, you saw, this list had best antiperspirant for men. From very cheap to very expensive, from scented to unscented. So, that you have ample options to choose from. I hope this article was helpful.