In the past few decades, deodorant has become and essential commodity, especially when it comes to personal care. But, with everything new there is a chance that it will bring new problems.
Antiperspirant deodorant is a very effective means to control sweat and in turn controlling body odor, but it can cause problems in two ways.
Firstly, it stops the natural processes of perspiration, and secondly, due to high aluminum content it can play a role in increasing the chance of a disease.
For people who don't have a major sweat and odor problem, a deodorant without antiperspirant is the right choice.
List of the deodorants without antiperspirant
Alra Non-metallic Deodorant
This product is especially designed for people who don't want  metals in their deodorant. Artificial deodorants, and especially antiperspirant have high levels of aluminum in them.
This deodorant is good for people suffering from cancer!
It doesn't cause rashes and burns. And, it is does not contain any aluminum, it is safer than an antiperspirant which has tons of aluminum.
It has Oil of Cypress which acts as an astringent.
Many hospitals and doctors recommend this deodorant to the patient of cancer and Alzheimer's.
Arm & Hammer Essentials Solid Deodorant Fresh
It is a natural deodorant that doesn't contain aluminum or paraben, or any other type of toxic ingredients.
This deodorant contains baking soda.
Earlier the formula contained Triclosan, but after getting complains the company decided to get rid of it.
Arm & Hammer takes you through an entire day of activity without any odor.
No stains, no white residue!
It is one of the cheapest natural deodorant you can find, plus it is very effective. Buy in bulk for even cheaper rates.
Freedom All Natural Deodorant Aluminum Free Odor Protection
It is the best deodorant without antiperspirant available on the shelves. It is a completely chemical free deodorant, and is known for its performance.
Available fragrance: 1) Bergamot mint 2) Lavender citrus 3) Peach. Bergamot mint is the best.
It has both stick and spray versions. The company recommends using both stick and spray together, for a 3-days straight protection.
The company claimed to have tested it at 100+ degrees temperature without losing its effectiveness.
Freedom is a highly rated chemical free deodorant and if you have money to spend it is surely worth a try.
Schmidt's Deodorant Stick, Bergamot + Lime
This deodorant is for people who don't want animal ingredients in their deodorant. It is cruelty free.
If you have been using artificial deodorant for a long time, then it might take a while to function fully, this happens with many natural deodorants.
Fragrances: 1) Bergamont+Lime 2) Lavender+sage 3) Cedarwood+ Juniper 4) Rose+Vanilla
All the fragrances are equally great and helps in covering the body odor efficiently.
Arrowroot and coconut oil keeps your skin moisturized and smooth. Arrowroot is very effective in repairing the damaged caused by previous deodorant.
nasanta Magnesium Deodorant Men
Nasanta is an Australian-made Magnesium based deodorant, which uses Magnesium instead of Aluminum as the active ingredient.
The formulation of this deodorant is very gentle and doesn't cause any irritation or sting.
100% money back guarantee!!! 
Apart from aluminum, it doesn't contain alcohol, triclosan, talc. The glycerin it has is not synthetic, but derived from coconut.
It is totally unscented. Nasanta doesn't spoil your clothes or leave any residue on your body.
The only problem with this product is that it takes a while to dry.
Baxter of California Citrus and Herbal-Musk Deodorant
It doesn't contain aluminum, but the ability to control sweat is really amazing.  It is very effective for 10-12 hours.
Baxter of California doesn't leave any stains whatsoever. So, if you are tired of spoiling your light colored shirts, then you must try it.
A container can last for up to 4-6 months, depending upon the usage.
The view of people on the scent of this deodorant is very subjective. Some people really like it and some people really hate it.
It doesn't have an artificial scent, that cheap deodorant  has.
Tom's of Maine 24 Hour Mens Long Lasting Deodorant
This deodorant is halal and kosher certified. In simple terms, it means that it is okay for both Muslims and Jews to use this deodorant.
Don't have any animal ingredient. 
Tom's of Maine is all natural and doesn't contain aluminum, paraben, and triclosan.
If you don't have an extreme sweating problem, then you can go with this deodorant. It completely masks the body odor, and can contain sweating to a certain extent.
The scent is mild and not overpowering, but it doesn't last very long, especially on a hot day.
It can leave white residue.
Old Spice High Endurance Original Scent Men's Deodorant
Old spice high endurance is a very cheap but also most effective deodorant without antiperspirant.
Available scents? 1) Pure sport 2) Fresh 3) Original 4) Arctic force.
Pure sport and Arctic force are clean and fresh, and have a resemblance to generic shower gel's smell.
The one which is available at the current time has a changed formulation which is not as much liked by the regular users.
It is good for people who have hectic schedules which requires ample amount of physical activity. It gives 24 hour protection in the hottest of climates.
No stains, no residue.
Body Mint Sport for Active and Athletic Lifestyles
If you don't want the smudgy-ness of the deodorants, then using a tablet deodorant is also an option.
It is especially for people who have lots of body hair or who smells all over the body, and not just in the underarms.
Dosage recommended: 2 tablets daily
But, you can experiment with the dosage. If you are not a very bad smelling person, one tablet a day can also do the job.
Apart from keeping you odor free, this deodorant also gives you nice breath.
Deodorant tablets, no matter which company, don't start working right away, depending upon your body chemistry it can take 5-7 days.
LaVanila – Sport Luxe Healthy Deodorant
LaVanila produces healthy deodorant, as these deodorant don't have any toxins in them, plus they are packed with anti-oxidants.
Available scents? 1) Vanilla Breeze 2) Pure Vanilla 3) Vanilla Grapefruit 4) Vanilla Lavender 5) Vanilla Blackberry
All the scents are strong, but not overpowering. And, these fragrances are not feminine, they easily fall under the category of unisex.
The Sport Luxe version is especially good for people who workout. Even after a high intensity session, you won't smell any odor.
Speed Stick Musk Deodorant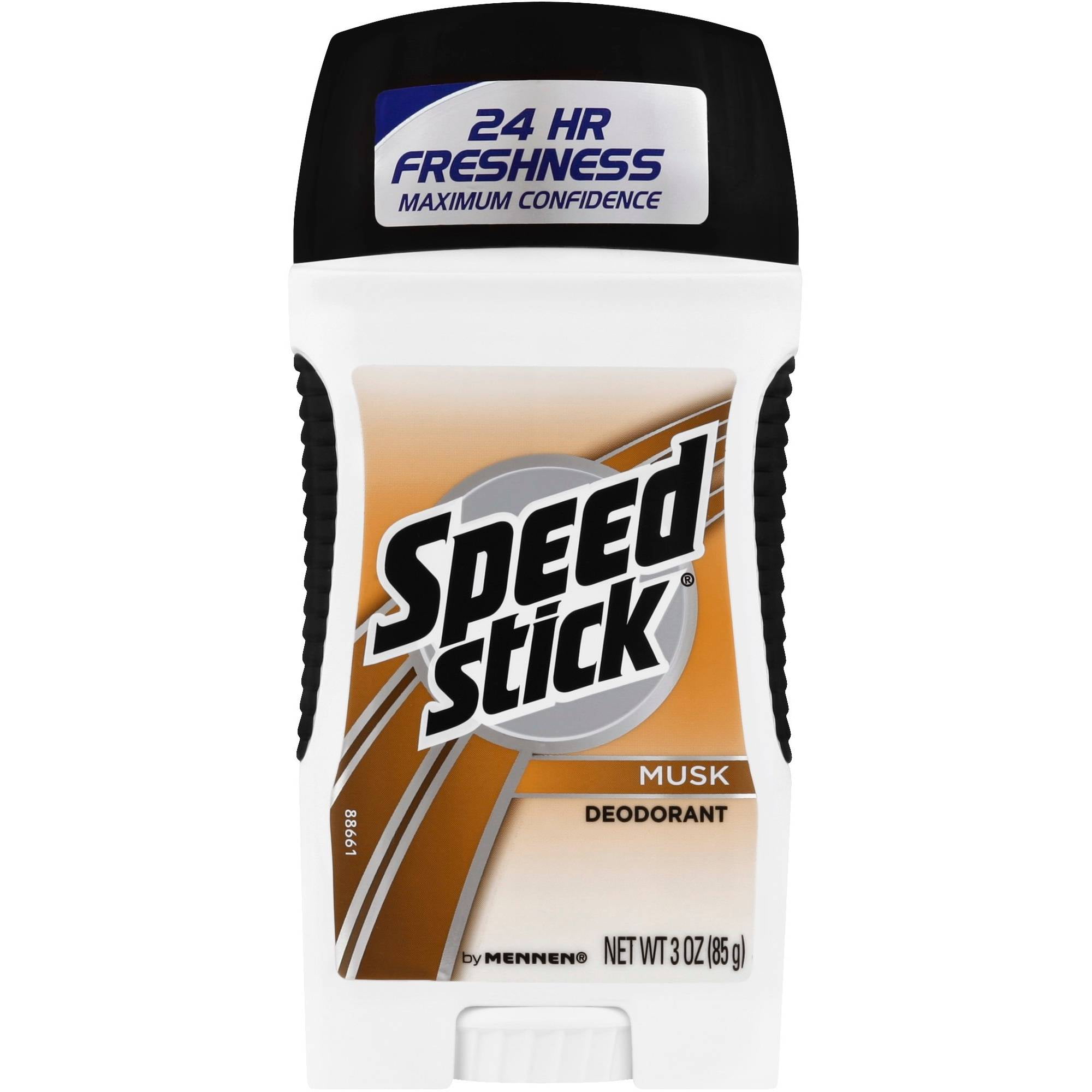 It has a thick musk scent which is purely masculine and is rated highly by the customers.
The product is not natural, but it is a deodorant without antiperspirant, although that doesn't affect its performance.
Other fragrance? 1) Active fresh 2) Ocean surf 3) Regular
Unlike, many other deodorant brands, Speed stick haven't changed its formulation to make it worse, that the reason people are sticking to it for years.
These were some of the best deodorants without antiperspirant. Click here, to check some antiperspirant that doesn't have aluminum.