In this article, we will discuss some of the best unscented deodorant available in the market. Best how? Every odorless deodorant has some additional qualities too, like it is also an antiperspirant or it will also be an anti-chafe solution.
Different people have different requirements, accordingly, I have included a range of fragrance free deodorant in this list.
I also understand that many people don't like spending a fortune on a deodorant, especially an unscented one, that is why, this list has from very expensive to very cheap products. So, lets start!!!
List of unscented deodorants
I have written about this deodorant before also. It is a pretty amazing product. First of all, it contains mineral salts that totally kills body odor without giving you rashes or staining your clothes.
A stick of this product will cost you around $5 but the thing here is that it will last for months or even an year. So, you are paying only $5 for an year's supply.
This unscented deodorant crystal won't disappoint you, just make sure to apply it liberally and cover as much area as you can to reap the full benefit.
It is an unscented deodorizer and remember that is not an antiperspirant, so, you'll sweat but there will be no body odor.
Cons: The crystal is not attached properly, so it falls down during application.
Best way to use it:
Apply a little water on the stone and gently rub on your underarms. Cover the entire underarm and not just the part where hair grows.
This is another crystal stone deodorant. I know I have a crystal stone deodorant before and they all are almost alike but I couldn't keep myself from adding this to the list too.
It is cheap, it is effective, it is safe.
Apart from that, it is perfect for sensitive skin and for people who are prone to allergic reaction. It naturally masks the body odor and controls the sweat a little bit.
If you are an animal lover then you'll be glad to know that it is a completely cruelty free deodorant.
Using a deodorant paste, feels more like what my grandfather might do.
But, this scentless deodorant paste is an exception. Very effective on body odour and limits the sweating to some extent.
It has all the natural ingredients and is good for a person with sensitive skin. A stick version is also available but frankly it doesn't have same magic as the paste.
No animal ingredients are used in this deodorant, so, that gives you one more reason to buy this, especially if you are an animal lover.
Con: It controls body odor but not as effective in controlling the sweating.
Best way to use it:
Put a small dab on your palm(that would be enough), apply evenly and massage to spread properly.
As you can tell from the name that it is for women but being unscented it doesn't really matter.
Odor protection? Sweat protection?
The company claims that it keeps you odor-free for around 48 hrs and I think it pretty much delivers what it claims. And, for sweat protection, being an unscented antiperspirant it will keep you sweat-free for at least 12 hrs.
The gel goes on very smoothly and doesn't leave any marks or residue.
Tip: To avoid build up let the deodorant dry before wearing your clothes.
Deodorants have been associated with health problems in the recent past. Although, the results aren't very concrete. But if you don't want to take any risk, then this is the a good choice for you.
How safe is it? 
You can name any ingredient that is present in a deodorant, this deodorant won't have it. It is safe to use for men, women, elders and even kids.
It has Candelilla Wax, that prevents freezing of deodorant, which is a common problem with natural/organic deodorant.
Organic island might leave a few white flakes behind, but not enough to bug you. And, the flakes can be removed very easily during showers.
I would start by saying that this is a good deodorant for people living in hot areas. Arrid XX has this formulation which makes you feel cool for a long time.
Along that, it does a pretty good job in stopping the sweating. And, as you know the lesser the sweat the lesser the odor. It is designed for men, but again, being unscented how does it even matter.
Any cons?
It does leave white residue after it completely dries up and secondly, it is not a very long lasting product, especially during hot season.
As you can tell from the name, it is a natural unscented deodorant. I would say this is one of the most effective natural deodorants available in the market.
The product surely fulfills the promise of 24 hrs protection but this doesn't goes for everyone, your body chemistry will also be a deciding factor in that. The organic Aloe vera soothes the underarm skin, which is usually chafed due to constant friction.
Being an alcohol free deodorant it is good for you even if you have dry skin.
Con:The only con I found about this product is it's price.
Best way to use it: Apply on moist skin but not too wet.
This list doesn't have many antiperspirant in it, and there are people who sweat a lot, and compulsorily need an antiperspirant deodorant.
ARM & Hammer is known for very effective natural deodorant, and this antiperspirant is also very effective.
This deodorant tend to leave a little residue, but you can expect it from a deodorant with high aluminum content. Although, it doesn't burn or sting.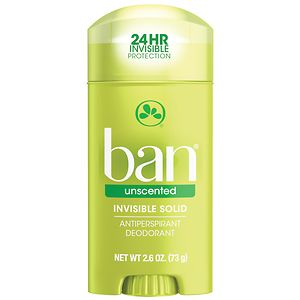 It has very high quantity of active ingredient in it, which is about 19%. This means it is very effective when it comes to sweat protection.
More aluminium => More sweat gland blockage => More sweat blockage
The best part about this product is that it is long lasting. And, when I say long lasting I mean that it can keep you dry for a couple of days.
It is a very highly loved product by the consumers but now days not very easily available in the retail stores. A deserving candidate in the list of best unscented deodorants.
This is especially for people who have to walk a lot or who has running as a part of their workout routine. It is basically an anti-chafe unscented deodorant that basically prevents itching and burning of skin due to friction.
It works by moisturising your skin to make it smooth. I won't say it is necessarily an underarm product, it is more for your "balls", if you know what I mean.
And, from the name you can tell it is unscented, actually that makes sense, you don't want your balls smelling like flowers. It is a product that last almost the entire day and need not be reapplied.
Con: It feels a little wet on application.
Best way to use it: Apply liberally in the area that are prone to friction.
On top of being a fragrance free antiperspirant it is also a deodorant for sensitive skin. It is very mild even to the most rash prone skin. Plus, it is also a hypo-allergenic.
I should warn you that it is not a 100% unscented but it has ultra mild fragrance that is barely noticeable.
As an antiperspirant it surely scores a pretty good marks. Even in a very hot and humid climate, it can keep you sweat-free from morning to evening. And, for office going people it is clinical strength antiperspirant.
This is a deodorant patch, which you have to apply to the underarm and remove it after few minutes.
Swearblock not an unscented deodorant per se, but you need you apply in before going to bed, and its smell stays with you for only a few minutes.
As it has to be used once a week, you don't have to worry about the scent, as it would certainly be gone by the next morning itself.
This is the strongest antiperspirant in this list, and if you are a really heavy sweater and don't want to apply the deodorant twice daily, then it is the perfect option.
This is a completely toxin free product that is 100% natural. I would say if no other product works for you.
You should start using this one and you'll get results other than usual. It is very effective in controlling body odor and being natural is very gentle to your skin.
Alcohol and aluminium are the two ingredients that can harms your skin and this deodorant contains none of them. It is generic and can be used by any member of the family. It doesn't stain your clothes and leaves very little residue.
Con: Some people might feel burning sensations after applying it. But, that number is very less.
Best way to use it: Apply is immediately after showering.
Another natural product in this list of unscented deodorants. This deodorant is aluminium free, paraben free and propylene glycol free. For those of you who don't know, these ingredients are known to have carcinogenic effect.
In many cases it is seen that all natural deodorants loses their power after 3-4 hours of rigorous activity, but it is not the case with this deodorant. It can easily last up to 7-8 hours even in the worst circumstances.
Con: It can be little hard to apply.
I have had some good experience with Arm & hammer essentials deodorant. First of all, it is natural and on top of that it is very effective.
Although, it is not an antiperspirant so don't expect it to keep you dry completely but it surely keeps you odor free while controlling the sweat a little bit.
Can this product be used everyday?
Yes. Being a natural deodorant it can be used every day and it should be used every day. As deodorant with aluminium in them, deposit some aluminium on the top of the sweat glands which stay there for sometime. So, even you skip one or two day in between, it is fine.
This was the list of best unscented deodorants available in the market. I have included lots of natural deodorants, the reason being, natural scented deodorants don't last that long, so when we are using unscented one, at least then we should try to opt. for natural ones. I hope you find this article useful.