Deodorant is an indispensable item for most of us, especially for people who sweat a lot. But, whenever you use chemicals on your body, there is a chance of side-effects.
This can prove even more dangerous when you have a sensitive skin or when you are planning to use these products on your kids.
The problem is many natural deodorants are not as effective as their chemical counterparts, so it important to hit the sweet spot, where you balance the health and effectiveness equally.
In this article, we will look at some safe deodorants that are good for your health, for your skin and are very effective.
List of Safe deodorants
Jungleman All-Natural Deodorant
Jungleman is a baking soda based deodorant, which is safe to use for pretty much everyone, even kids. But, before using it you must check for allergies. Many people are allergic to baking soda deodorants.
Any chances of rash?
Jungleman is a hypoallergenic deodorant which means, for most of the people it won't cause any rash, itch or burn.
It is available in various scent; mint and the lime are the best. The scents are unisex, but if you want a complete female deodorant you can go with JungleWoman also.
 Being natural deodorant have many advantages, but it comes with a few disadvantage also. One of them is melting.
Crystal Body Deodorant Stick
In any list of safe deodorant you have to have a crystal deodorant. Crystals are not only a safe way to deodorize, but it is very cheap too.
For example, this deodorant can last up to 1 year, even if used extensively. Crystal basically consists of Alum, Alum is used by barbers as an aftershave.
Although, it is natural, but it contains aluminium. The particles of this alum is bigger in size and doesn't get absorbed as easily as a small size aluminium compound.
Don't expect it to stop sweating completely, and hence it is for people who have low-level to mid-level sweating problem. But, it manages to keep the body odor at bay.
All Natural Coconut Oil and Baking Soda Deodorant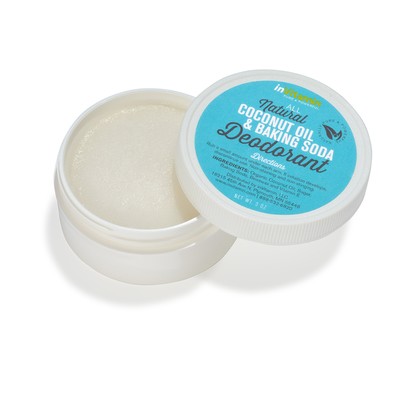 This is yet another baking soda deodorant, but this one doesn't have a problem of melting like most of the baking soda deodorants have.
All natural is coconut scented which is neutral, whether you are a young boy or an old man, whether you are a teenage girl or an elderly woman, this suits each and everyone of you.
It is a very high quality product which is very rare to find at this price range. The company gives a money back guarantee, which includes even the shipping charges.
For animal lovers this product is a dream come true, in spite of having so many qualities it is also a cruelty free deodorant.
Nasanta Magnesium Deodorant for Men
Aluminium is often linked to cancer, though there aren't enough scientific proof to be conclusive, but there is enough proof to put off many people, especially the ones who have already been diagnosed with cancer.
Does it contain aluminium?
Instead of aluminium this product is using Magnesium as deodoriser. And, don't worry about quality, the company gives you a money back guarantee.
Nasanta Magnesium is very mild on skin and won't cause any rash or burn. It is also unscented which means it can be used by both men and women.
Bali Secrets Natural Deodorant
As the name suggests, Bali secrets is a product of Bali, an Island, known for its love towards mother nature. And, this product is not any different.
It is made up of ingredients that are natural and organic, making them safe to use for people of different age and skin problems.
If you have a damaged skin from previous deodorant, then Bali secrets can help repair your underarm skin.
The scent is floral that reminds you of an ocean or a beach. A 2.4 oz of this deodorant can last for about 2-3 months, depending upon the usage.
South of France Nubian Heritage Honey and Black Seed Deodorant with Apricot Oil and Wild Honey
This is truly an all natural deodorant that contains corn, shia butter, honey and black seed. It is very efficient in controlling body odor and sweat.
Can it improve damaged underarm?
The shia butter helps in soothing the skin and makes the underarm skin smooth. It also repairs the damage caused by previous artificial deodorant.
Many people can't use natural deodorant because of their allergy to gluten, they needn't worry about using this deodorant as it is gluten-free.
It doesn't have baking soda it. The company claims it to be a 24 hr protection product and that claim is correct for most of the people.
ORGANIC 101 Cedarwood Spice – All Natural, Extra-Strength Deodorant
This is USDA certified 100% natural and vegan deodorant. You name any known harmful substance, that is usually present in the deodorant, and this one won't have it.
From aluminium to paraben, Organic 101 is free of all of them. This deodorant is safe to use for women, kids or people with very sensitive skin.
Instead of baking soda Organic 101 uses cornstarch, which allows people who are allergic to baking soda to use it too. The deodorant is little oily, so it also prevents friction burn.
The scent of cedarwood is very generic, both men and women can pull it off without triggering negative reactions from people.
Crystal Deodorant Essence Roll -On Pomegranate
If your job requires lot of physical work and you don't want to carry sweaty underarms, then you should try a different and stronger one. It is a soft and safe deodorant to use.
Scent?
The pomegranate scent is amazing and it will surely bring compliments from people around you. It is mild but noticeable and stays with you for the entire day.
The price is also more than reasonable. You are getting a 2.25 ounce of bottle for only 3 bucks. It can easily last for 2-3 months.
It also has vanilla jasmine and Lavender & white tree scent. Although, pomegranate is the best. But, if you are not a fan of pomegranate then you can try Lavender & white tree scent.
Naturally Sourced Best Natural Deodorant (Lavender) with Activated Charcoal Powder
This deodorant does contain baking soda, but the company claims that the quantity is small and doesn't cause any skin rash or irritation like your regular deodorant.
Sweat protection?
It comes with activated charcoal which means it is good when it comes to absorption of sweat. It can absorb 1000 times more moisture than its own weight.
Apart from taking care of sweat, this deodorant takes care of body odor very effectively. Coconut and colloidal silver balances the pH level which is not ideal for bacteria to live and grow.
Tea tree scent is also available and both of them are equally good. What you choose it purely up to your own taste.
PiperWai Natural Deodorant 
This is a very popular deodorant among the natural-product loving people. PiperWai has activated charcoal technology, which means it can absorb moisture really well.
It works well on sensitive skin, it is packed with skin caring moisturiser which makes it useful if you have damaged your underarm skin while using a harsh product.
This product is so gentle that it can be used right after shaving, so if you are using this you don't have to wait for hours after shaving.
The clove scent of this deodorant is very mild and sticks close to your skin. The deodorant doesn't leave any residue or stain your clothes.
Handcrafted HoneyBee – Natural / Aluminum Free Probiotic Deodorant (Lavender Rose)
As the name suggests, it is handcrafted. The good thing about handcrafted product is that you can be rest assured about the quality of the product.
It comes in variety of scents from coconut to lavender to eucalyptus. And, all these scents are amazing in there own way.
HoneyBee Coconut&mango is for people who are fond of floral scent. It has tropical coconut which gives you a feeling of being on the beach.
Lavender&rose is more of a feminie and Eucalyptus spearmint is more towards Masculine side. Although, it is also available as unscented.
It has Arrowroot powder which is a very good healer. In fact, the name comes from the fact that it was used to heal arrow wounds.
Soapwalla – Organic / Vegan Deodorant Cream (Citrus)
Yes, this is a pretty expensive deodorant. For $19 you'll get 2 oz. of this deodorant. But, if you have money to spend then you should give this one a try at least once.
It is a very effective and safe deodorant for people with hypersensitive skin too. The company takes pride in declaring this product as least harmful, to you or an animal.
Yes, it is a cruelty free deodorant. 
It is also very effective for stress-sweat odor. On using this product for some time, you might even notice that you will sweat relatively less.
JK Naturals Natural Deodorant, Peppermint and Tea Tree
As the name suggests, it is a natural deodorant with all safe to use ingredients. One thing that set this deodorant apart is the fact that it is handmade.
Scent?
Its scent is a combination of peppermint and Tea tree oil, but peppermint is much more prominent. If a rating should be given to the scent of this deodorant, it will surely get 5. If you are a fan of peppermint then you should definitely buy this.
Tip: Hold it against your body for a few seconds before sliding it. Your body temperature will loosen it a bit and then it will go on smoothly.
These were some of the safe deodorants that can be used by not only adults, but kids too. The prices were not mention as then can change with time.