Now days, people have become totally health conscious. They carefully choose what they would eat and how much workout they would do. We are so much concerned about ourselves and our health that we are meticulously careful about the product we want to use and about its each and every ingredient.
But, we still ignore the harm that "harm-free" product is causing to others and by others I mean animals.
If you are reading this article, then there is 99% chance that you are an animal lover. I have written this article for animal lovers like you, to present them with choices of deodorants that don't harm animals in the making .
I have included both vegan and cruelty free deodorants that works as well. So, without any further delay. Let's begin!
list of cruelty free deodorants
1)Thai Deodorant Stone Thai Crystal Mist Pump

When you think about cruelty-free deodorants, you feel like you have to do some compromises but with this deodorant the story is different.
What it has => Everything you want in a deodorant
What it doesn't have => Everything you don't want in a deodorant
For example, it doesn't have aluminium or any other toxic chemicals that can harm your health in any possible way.
It is also a hypoallergenic deodorant, for those of you who don't know, it means that it is good for people who have allergies.
Being natural it is very gentle and doesn't cause irritation to the most sensitive skin.
Available as?
And, if you think that $7 is a little out of your budget, then I would like to tell you that this bottle will last for months and months, which makes this deodorant very economical.
2)EO Organic Deodorant Spray, Lavender

It is a certified organic and certified cruelty free deodorant., which means, it is good for both your and animals health.
EO organic deodorant has a number of fragrances:
Lavender
Citrus
Vetiver
And, all of these scents are amazing.
Does this deodorant have baking soda in it?
No, actually many natural deodorants have baking soda in it, which cause allergy in some people, but EO doesn't have it, making it usable of people with allergy of it.
A bottle of this deodorant can last up to 3 months max. but there is a little trick you can use to extend that time.
If you don't sweat very heavily then you can use this deodorant once every two days and it will keep you odor-free till the next application.
3)DeodoMom Roll-on – A Hypoallergenic Lotion Deodorant

DeodoMom, being in this list is surely cruelty free deodorant but apart from that it is also free from aluminium, dye, colorant, paraben etc
It is a 100% vegan deodorant which is very rated highly by the consumers and the company flaunts that very nicely.
How many ingredients?
TWO. Water and Magnesium hydroxide.
Magnesium hydroxide is an edible substance and hence pretty safe to apply superficially.
It can be used by both men and women as the formulation is fragrance free. Plus, being a hypoallergenic and very gentle deodorant makes it a very good choice for even your kids.
This deodorant is also available in jar and the effectiveness and gentleness remains the same. Although, roll-on is more travel friendly.
4)Tom's of Maine Women's Natural Powder Antiperspirant Stick Deodorant, Naturally Dry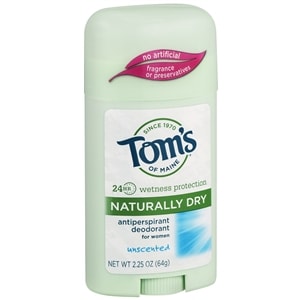 Tom's of Maine provides a wide range of deodorants that are suitable for practically everyone.
First of all, it has a series of natural deodorants that are both vegan and are not tested on animals.
These natural deodorants are available in many scents, like, apricot, lavender and lemongrass.
It is also available in unscented form for the people who don't wanna smell like their deodorant.
It contains an ingredient which uses recycled aluminium, which helps with the sweating. It is one of the very few cruelty free antiperspirant available in the market.
Feeling charitable?
This deodorant company, pays 10% of their earning to non-profit organization. So, one more reason to buy this deodorant.
5)Green Tidings Organic All Natural Deodorant, Unscented
It is cruelty-free in every sense of the word, it has no animal ingredients and it is not tested on animals.
The same deodorant is available in lavender and in unscented form. It is US based company and is not very readily available else where.
I won't say it will keep you absolutely dry but it surely will decrease the wetness.
It contains Tapioca Powder which you won't find in any other deodorant and is very effective in absorbing the sweat while softening the skin.
And, you would also like to know that the facility in which it is made is completely solar-powered and if you like your environment, here is another reason to buy this product.
This is a clean deodorant which goes smooth, leaves no stains and it is very easy to wash off.
One of the best cruelty free deodorant. Highly recommended!
6)Every Man Jack Deodorant, cedarwood
Description:
Every Man Jack provides a series of deodorants that are not only natural but also free of animal cruelty.
These deodorants have diverse range of fragrances that will strike every man's fancy.
It has cedarwood, sandalwood, citrus, signature mint and fresh scent.
And, each one of these scents are heavenly. I would say, cedarwood is totally manly and rest of the other can easily qualify as unisex scents.
Will it smell good on women?
Yes, go for citrus. It will suit you the best.
If you are planning to buy this product or already bought it then be careful where you place the deodorant. Keep it in cool and shadowy place, away from the sun because exposure to heat and light might melt and spoil it completely.
7)
Lavanila The Healthy Deodorant-Vanilla Grapefruit
Description:
There are two things about this deodorant which makes it completely different from other deodorants in this list.
First of all, it uses very effective beta-glucan technology to fight with the body odor. And, secondly, it have this amazing vanilla grapefruit scent, which is heavenly and hard to find.
It does a pretty good job in controlling the body odor. It can't be called a complete natural deodorant but it is surely a toxic free product.
If you had a bad experience with your previous deodorant and still suffering from the burn and irritation caused by it, then Lavanila can be the solution for you, as it has lots of ingredients that are conditioning it nature.
The same deodorant is available in many flavors including, vanilla Lavender, Vanilla coconut, vanilla lemon and vanilla passion fruit. If you don't wanna go with vanilla grapefruit, then I would advise you to go with vanilla passion.
So, these were few of the deodorants that are cruelty-free and that works as well. There are few more cruelty free deodorants available but they are not as efficient as the above seven. I hope you found this article useful.