Now days, the physical appearance of a person is as important as his/her personality. No matter where ever you go or whatever job you do, your physical beauty always gives you an edge over others.
So, it is also a great idea to not smell bad and if possible smell good. The usual reason for body odor is the bacteria that eat your sweat(especially in underarm area) and produce odor.
Generally, a lot of people are totally satisfied with result of normal deodorants but there are many, for whom, this is not enough. They want something stronger. Here, clinical strength deodorant comes into the picture.
List of most used clinical strength deodorants
Secret Clinical Strength Advanced Solid Antiperspirant & Deodorant
This deodorant contains conditioner which conditions and makes your underarm skin smooth, therefore unlike many other deodorants it is good for your skin.
The light and fresh scent of this deodorant is totally heavenly.
Once you smell it you'll buy this product not for its amazing performance as an antiperspirant, but for the sole purpose of smelling great.
It has a pretty strong scent which can easily overpower most of the perfumes if applied heavily.
Con: For people who have a signature fragrance or cologne, this product might be too strong..
Certain Dri Clinical Strength Solid Anti-perspirant
How much active aluminium in it?
Most of the antiperspirant contains Aluminum Zirconium Tetrachlorohydrex Gly, but this one contains aluminum sesquichlorohydrate, that too in larger quantity(25%).
In the beginning, it might not perform at its best, but after a week or so, when your body will adjust to it you'll be amazed by its ability to stop perspiration and seize body odor.
For first few weeks you have to apply it everyday, then after that you can skip a night or two. It is almost an unscented deodorant, therefore you can use your favourite cologne along with it.
Maxim Sensitive Anti-Perspirant Deodorant Clincal Strength
Let me start by saying that this single roll-on stick can last up to 1 year.So, if you look at it this way, in total you'll be saving money.
Now, lets talk about its performance. It works amazingly well for people with sensitive skin as it doesn't contain alcohol.
I hear people condemning some great products(like this one), just because it didn't work on them. The truth is no product can work for each and every person.
If it is working on 9 out of 10 people and not working on you. Then, it is probably your fault and not of the product.
Is it long lasting?
It is a long lasting product, which works at it best, for at least 24 hours. I highly recommend this product if you have money to spend.
Con: This roll-on deodorant can cause itching in some case, which lasts for sometime only and is not a very big issue. Plus, the company could have fixed the price a little lower.
SweatBlock Antiperspirant – Clinical Strength

Thing which is distinct about this product is that you have to apply in once a week only.
Can I exercise after using this?
After applying it, you can use shower, do exhaustive workout or even go for swimming and it won't wash away.
The company claims that this deodorant works perfectly well for nervous sweat(which smells quite bad), menopausal sweating, hyperhidrosis treatment.
The $19 box have supply for 8 weeks(2 months) but there is a trick which will make the same amount last double that time period.
Con: It might cause some burn for a few minutes after application, especially, when not applied according to the instruction.
Mitchum Smart Solid Clinical Performance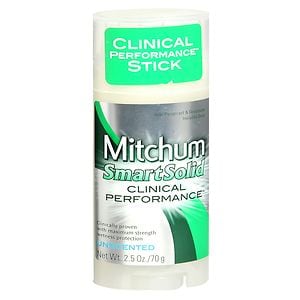 If you are one of those who usually doesn't like the sweet smell of the deodorant, then this stuff if for you.
It is the only truly unscented clinical strength deodorant in this list.
Unlike other clinical protection products you don't have to apply it in the night.
Does it have alcohol in it? 
It is water based, that is why it doesn't make your skin dry and mixes up easily.
The biggest problem with this product is that it breaks down while applying.
Con: The sticks breaks but I would say this should not stop you from buying this amazing product.
Old Spice Red Zone Sweat Defense Soft Solid Extra Strong Champion Scent Men's Anti-Perspirant & Deodorant
Although, it is not mentioned by the company as the clinical protection deodorant but it is as effective.
It contains 19% Aluminum Zirconium Trichlorohydrex Gly and in most of the prescription strength deodorant the quantity of this deodorant is about 20%.
It has white creamy texture which gets absorbed into your skin very easily and leaves almost no residue.
If you are on a tight budget and simultaneously don't want to smell bad, then, there is nothing better you can find.
This deodorant is available in other flavors also, like "Fresh" and "Sports". This is the best clinical strength deodorant for men.
Con: The only thing bad about this product is its container. It is doesn't come of like regular solid stick, when you rotate the disc to move it up, it comes out like grated cheese through several holes at the opening.
Gillette Clinical Endurance Cool Wave
It has this really amazing fresh sporty fragrance that freshens you up within seconds.
The gel texture feels very cool when applied and gets quickly rubbed into the skin. The problem with most of the prescription strength deodorant is that they can be a little harsh to the skin.
Once, applied this product guarantees to keep your sweat-free and odor-free for 48 hrs but I would strongly recommend re-application after every 24 hrs and not because it lacks in performance but due to its heavenly smell which fades away.
As a clinical deodorant it must be applied at night, so that aluminium is thoroughly absorbed but according to the company it can be used it the morning to get the almost same effect.
Con: The only drawback it has is its price. The amount you get its less compared to what you are paying. But, its smell and performance surely makes up for it.
Dove Men+Care Clinical Protection Antiperspirant & Deodorant, Clean Comfort
While most of the clinical strength deodorant are very harsh this deodorant is opposite. Like all the other products of Dove, this one is also very gentle.
How is the consistency?
It is like a lotion and hence very easy to apply. This product doesn't leave any residue if applied in the right quantity.
Dove Men+care smells almost like the dove soap and the scent is very mild, therefore, it won't interfere with your cologne.
It is not at all natural but doesn't rash or dry your skin.
For maximum performance, it should be applied at night, so that your underarm skin have all night to absorb it.
Con: This product is not as effective as the other clinical strength antiperspirants. For example, it will stop 90% of the sweat but not 100.
These were the best clinical strength deodorant that are most widely used. This list had both scented and unscented which gives you a better range to choose from.
Plus, most of the deodorants that I have mentioned would come under the budget for most of the people. I hope this article was useful to use.