Since the time it was found that aluminium in the deodorant is not good for health, there is a paranoia. Everyone is talking about aluminium and few other harmful chemicals that almost every deodorant have.
We are so focused on toxic ingredients that we are ignoring what a simple alcohol can do to the skin. Alcohol can dry up your skin and on occasions it can even cause burn and rash.
If you have a sensitive skin then it is not a very good idea to use an alcohol based deodorant. In this article, we will talk about few alcohol free deodorants that you can use.
List of alcohol-free deodorant
DeodoMom Roll-on – A Hypoallergenic Lotion Deodorant
This is one of my favorite deodorants and you'll know why. First of all, it has only 2 ingredients, out of which one is water, so it doesn't actually count. Secondly, the second ingredient is magnesium hydroxide, which is a very safe to use substance.
Plus, it is a vegan deodorant which is not tested on animals. So, no guilty conscious. It is very good in controlling body odor, it will be like absolutely no smell at all.
On thing you have to be very careful if you are planning to buy this deodorant as it doesn't contain any preservative, it has a shelf life of one year and after that it will spoil. It is a pretty long lasting deodorant, which provides odor protection for 8-12 hrs, depending upon individual and his/her daily routine.
This product is also available in jar, in cream form. It is a fragrance free deodorant, hence a good choice for perfume users. And, being fragrance free makes it usable for both men and women.
It is alcohol-free, aluminium-free and toxin free, and still it makes a perfect deodorant. This deodorant dries up very quickly and doesn't leave residue or stain your clothes.
Con: Does nothing about the sweating and has very less shelf life.
Truly's Natural Deodorant, ORGANIC
It is one of the very few long lasting natural deodorants and the company claims that blatantly on the cover of this product. One of the best safe deodorant you'll find on the internet.
But, being a natural and safe deodorant doesn't at all effect its efficiency. In fact, the company is so sure about their product that they give a money back guarantee and from that you can get an idea of what you gonna get for that 9 bucks that you'll be spending.
It doesn't contain alcohol, aluminium, paraben, GMO or any other unwanted harmful ingredient. The consumer of this product have rated it very highly across various platforms on the internet.
Few of them complained about it melting at high temperature but I don't consider it a problem as it re-solidifies and there is no change in its effectiveness. If you are worried about the price of this deodorant, then I would happily tell you that you only need a very small amount each time, so, this 2.5 ounce container will last for months.
Making it cheaper overall. Wearing this you don't have to worry about staining your clothes as it is a very clean deodorant and goes very smoothly too. Truly's also provides a similar deodorant for kids also.
Con: It can solidify at low temperature and can melt at high temperature.
Tom's of Maine Natural Original Care Deodorant Stick, unscented
Tom's of Maine is a very well known name when it comes to natural deodorants. Its products are gentle and contain practically no toxins. It is the same case for this deodorant too.
It is especially designed for sensitive skin. It is an alcohol-free deodorant, which makes it even better. As this article is for both men and women, that is why, I have mentioned the unscented version of this deodorant.
Otherwise, Tom's of Maine provide you with natural deodorants in many fragrances, those are alcohol-free too. This deodorant contains aloe vera which makes it soothing and it repairs the damaged skin to give you plain-smooth underarms.
If you are person who have serious body odor problem, then I would recommend you to go with the scented version of this deodorant, as the fragrance covers the odor bit more.
These deodorants are natural and don't have very strong scent, hence, they can be used with a perfume without interference.
Con: It is known to cause burns and rashes. Actually, it totally depends upon your body and hormones. You"ll only know, whether it will suit you, once you try it.
Alvera All Natural Roll-on Deodorant Aloe and Almonds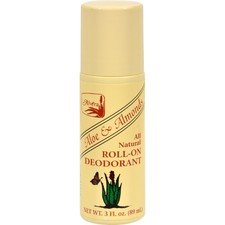 I think I should begin by saying that although it is a natural deodorant but it contains aluminium. If you read the ingredient list then you'll find that there is an ingredient, called "Alcloxa", which is basically an aluminium salt of Allantoin.
Although, I don't know how more or less harmful it is from other form of aluminium present in the deodorant.
Apart from that, it is a very good and effective deodorant. This product doesn't contain animal ingredient which makes it a perfect choice for vegans and animal lovers. It has aloe as the major fragrance note but it is not overpowering and after some time it fades away.
This deodorant is very good in controlling the body odor. This deodorant is made of 75% of aloe vera gel, which makes it very good for sensitive skin and it gives a nice cooling sensation when applied.
It is an alcohol-free deodorant which doesn't dry up your skin. Alvera is very easy to apply and also dries up fairly quickly, with out leaving behind residue.
Con: It does nothing about the sweating, like many other natural deodorants.
Mitchum Advanced Control, Clean Control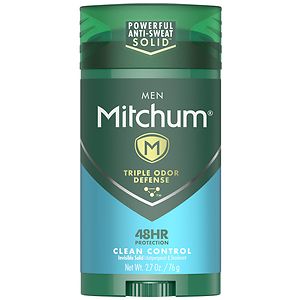 It is a very effective deodorant when it comes to odor protection. The company claims that it protects for 48 hours, which is true, depending on person to person.
I would say, for a person with serious sweat and body odor problem, it will still work at least from morning to evening. Unlike other deodorants mentioned above, this is an antiperspirant, which means it can control the sweating also.
A very desirable alcohol-free deodorant for people who work in an environment where they have to look spot-less and where sweat patches can be a deal breaker. This deodorant has a very clean and clear scent which doesn't belong to a particular gender.
It has one of those scent which is good to wear for both men and women, and also attracts both sexes. If you don't have a problem with using a chemical based deodorant and you sweat like a tap then I think you cannot find a better alcohol-free deodorant than this one.
It is not very different from the other well known antiperspirants but being alcohol-free and its amazing fragrance gives it a little edge over others.
Con: It is not natural unlike the other deodorants mentioned above.
Silver Shield Deodorant – Original Formula
Another very impressive alcohol-free deodorant which is very liked by its consumers. It is an all natural product which contains no toxins.
When it comes to stopping the body odor, there are only few products better than Silver shield and those deodorants aren't natural. The container of this deodorant is BPA free, in simple terms, it doesn't decrease the level of testosterone in your body.
It is also reusable. Hence, you can buy the refills of this deodorant instead of buying it entirely. This 2 ounce deodorant cost you $10 but you can get 4 ounce refill for just $13, means $6.5/2 ounce of this deodorant.
It surely saves a lot. It has this fresh scent that reminds you of rain water and it is agreeable to both men and women. Although, if you are very fastidious person, then I would say it is just a little towards masculine side.
And, if you wanna go more feminine then go for Floral scent. A spray version is also available for this deodorant but I prefer roll-on over spray, as there is practically no wastage in roll-on.
Although it doesn't have aluminium in it, it still manages to control sweat to some extent and it completely kills body odor.
Con: Little expensive, when compared to other deodorants in this category.
Thai Deodorant Stone Thai Crystal Mist Pump
This is one of my favorite deodorants, especially in the safe deodorant category. The main ingredient of this product is Alum,which is kind of a disinfectant. Barbers use it as an aftershave and it is also used for clarifying water.
Thai deodorant does control perspiration to a certain extent and the formulation very effectively manages body odor. It is a hypoallergenic deodorant, which means, people with allergies can also use it.
This is the mist form and it is also available in crystal stone, which FYI can last up to an entire year. Keeping that in mind its overall cost is absolutely nothing. Mist also lasts for months even if used everyday. Thai deodorant is totally unscented and can be used with the cologne.
It uses mineral salts to kill the bacteria that causes body odor. In spite of being cheap this deodorant is very long lasting. Apply it in the morning and it can last for up to 12 hours very easily.
Mist is not very good for travelling, if you travel a lot then you must go with crystal stone. But, with crystal stone the application is more tedious than mist.
Earlier this deodorant was made in Thailand but it is now produced in China, according to many, this has degraded the performance a little bit. Although, it is still better than many other well known deodorants.
Con: The company sells it as an aluminium-free deodorant but it has alum, which contains aluminium.
Maxim Prescription Strength Antiperspirant & Deodorant
On top of being an antiperspirant it is also clinical strength deodorant, which generally means it has more amount of aluminium in it, which makes the task of sweat protection easier.
As it has more aluminium the women who have suffered from breast cancer shouldn't use it. And, people with medical condition should consult their doctor before using this product.
This deodorant must be applied at night, which gives enough time for the absorption of the aluminium. The next morning you can take a shower, workout or go for swimming but this product won't wash off.
The company claims 96 hours of effectiveness. And, I can tell you that this product delivers what the it claims. In fact, I would advice you to use it every alternative day.
Doing that will have two benefits, the overall absorption of aluminium will decrease and the container will last for more time.
This deodorant doesn't contain alcohol, hence people with dry skin can also use it and the chances of getting a rash or burn also decreases. This product is so great that it is recommended by many dermatologist and the company flaunts it very well.
Con: This much aluminium completely stops sweating which is also not healthy and natural. It might cause some problem in the long run.
SweatBlock Antiperspirant – Clinical Strength
Here is another prescription strength deodorant but it is a little different from the mentioned above. First of all, it is not in the spray or roll-on form, it is a patch.
In return of $19, you'll get 8 patches and each of them is for single use only. Now, you'll wonder that this is too expensive. Actually not, you have to use a patch once a week only.
That means this set will last for 8 week or 2 months. Secondly, the amount of aluminium is very much and the patch can be used twice if store properly.
Every one should at least try whether this trick works for them or not. Using it only once a week makes it very special and unique when it comes to clinical strength deodorant. Plus, it saves a lot of your time and you don't have to worry about forgetting to apply the deodorant at night.
I know in spite of everything this deodorant cannot be called cheap and I would advice you to use it only when no other antiperspirant is working for you.
On amazon, this deodorant got a very high number of 5 star rating(more than 1200). This gives you a little idea of how things great this deodorant is.
And, the company gives you a 30-day money back guarantee too. When you apply SweatBlock you'll smell a very strong scent but that will fade very quickly. After few minutes or an hour you'll be left with mild-decent fragrance. As this deodorant is in this list, off course it is alcohol-free.
Con: No cons as such, its cost might be an exception.
These were few alcohol-free deodorants. I have mentioned a diverse range of deodorant in this list from all-natural to clinical strength. So that you'll have a number of options to choose from.