You might be the best looking person, you might have the most attractive personality, but if you smell bad then you'll hardly attract anyone.
How you smell can determine how people perceive you. It is better not to smell like anything, rather than smelling like a rotten corpse.
There are some deodorants that are very good when it comes to stopping the sweat, then there are some deodorants that specialise in masking the stench.
In this article, we will look at some of the best deodorant for odor control. These deodorants will not only mask the scent, but the odor will completely disappear.
List of best deodorants for odor 
Nullo Internal Deodorant Tablets Controls Body Odors Safely and Effectively
This is for people who have terrible body odor problem. As you can see these are pills that you have to take a couple of times daily.
There no point in talking about how these deodorant pill work, but what you should know is that they are really very effective.
The problem with regular deodorant is that you can't apply it everywhere. And, this is a problem for people who have lot of hair and who sweat a lot.
Dosage?
In the beginning you might have to talking 2-3 tablets every day. But, after sometime your body will get use to it and you can skip a day or two.
The best part is that it can take care of odor from any body part, including your underarms and feet. Although, it won't solve the sweating problem at all.
Thai Deodorant Stone Crystal-Deodorant
If you are one of those people who sweat all over the body, then just buying a normal effective deodorant won't do the job.
This is because you can't apply every deodorant all over the body, for obvious reasons. The best part about this deodorant is that a bottle of this deodorant lasts for 1 year.
$7 for 1 year
But, if you apply this deodorant all over the body, then too it can last for 3-4 months.
The only problem with this deodorant is that it might take some days before it starts showing some results. You must make sure to clean your skin nicely before applying this.
You might have to swipe this deodorant several times , depending up on the severity of your problem. You can start with couple of swipes and keep on increasing if you don't get desired results.
Lavanila The Healthy Deodorant-Vanilla Grapefruit
First of all, it is a very good smelling deodorant, probably one of the best.
Lavanila is a natural deodorant and doesn't contain aluminium or any other harmful substance.
The name mentions 'healthy' in it. This is because the amount of anti-oxidants present in it. Although, the kinds of anti-oxidants are not mentioned.
It has ingredients like honeysuckle, beta-glucan and tea tree oil, which not only takes care of the body odor, but also keeps your skin smooth and moisturised.
You have to pay $14 for 2 ounce of this deodorant. In all fairness, this deodorant really works and deserves that price tag.
The smell of this deodorant is although a little feminine, but men can also use it. Especially, the ones who consider themselves metro-sexual.
Brut Deodorant, Round Solid
If you have previously used Brut aftershave, then you can imagine the fragrance, it is absolutely the same. And, this is a deodorant that can overpower anything, including your body odor.
The company claims that this deodorant provides 24 hrs of protection, but it totally depends upon your daily physical activity and your work environment.
Brut can prevent sweating to a certain extent, but don't expect the performance of an antiperspirant from this deodorant.
If you buy a single piece, it might cost you a little more. So, it is better to buy it in bulk. That way each bottle will cost $1 or 2 less.
Those of you who have used this deodorant a long time before, might find the scent a different. The company have decided to change the formulae.
Zerosweat Antiperspirant
It is one of best deodorant for odor protection available in the market.
This antiperspirant can manage the sweating for more than 7 consecutive days. It can take care of the worst possible sweating problem.
The best way to apply this deodorant is after showering at night, that way it will get chance to get absorbed properly. If you apply it in the day, then sweating might not allow to absorb the deodorant properly.
Will is leave any residue?
The company guarantees that this deodorant will not leave behind any white or yellow residue, and it wont' stain your clothes or leave any marks whatsoever.
Each bottle of this deodorant will last around 2 months. So, you are paying $19 for 2 months of dryness, which seems to be a fair deal.
Speed Stick Gear Deodorant, Fresh Force
This deodorant for strong odor protection comes with the fresh core technology, and the company doesn't explain in detail what that actually means.
All you need to know, is that this deodorant is very effective when it comes to odor protection. You can be rest assured for at least 24 hrs after application.
For people who are more worried about sweat can use the same deodorant with DryCore technology. Again how it works is not explained.
The scent of this deodorant is named 'fresh force'. The fragrance is clean and rushy, and reminiscent to normal sporty deodorants available in the market.
Is the deodorant strong?
Yes, the scent is strong and that is why it is a good choice for people dealing with odor problem. But, do know it can also over power mild perfumes and colognes.
Mitchum Anti-Perspirant & Deodorant Clear Gel, Sport
The antiperspirant(ZeroSweat antiperspirant) that we have seen before was very strong and most of the people with low to mid level sweating problem won't need it.
For them Mitchum is a good choice. It can take care of odor problem in two ways. Firstly, it will stop the sweating almost completely.
And, the sporty scent of this deodorant is so prominent, that it can mask even the worst kind of body odor.
The deodorant is formulated in such a way that it drys up very quickly and leaves no residue behind. The sad thing is that company have changed the formulation.
The new formulation is going fine by lots of people,  but there are many who are raising an eyebrow.
Burt's Bees Herbal Deodorant
This is not only a cruelty-free deodorant, but it is also leaping bunny certified. This means, not only the finished product but also the ingredients are not tested.
Although, this brand is cruelty-free, but you must also know that the company which owns Burt's bees does conduct animal testing on other of its products.
The company says sweating is a natural process and interfering with it is not good for your health, hence, Burt's Bees herbal deodorant lets you sweat, but manages to kill body-odor completely.
This is a good deodorant for each and everyone of you. The alcohol present in this deodorant is derived from yellow corn and doesn't dry up your skin that much.
Burt's bees is a strong deodorant which allows you to stay fresh in the hottest whether.
Every Man Jack Deodorant – Cedarwood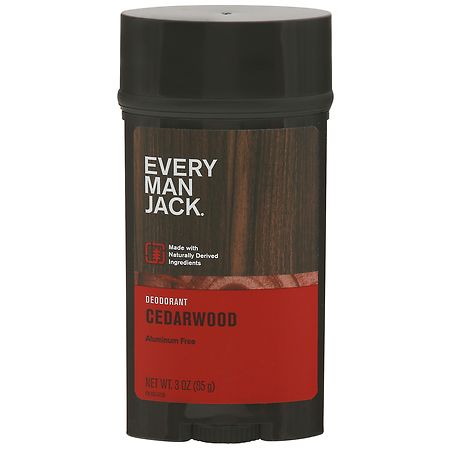 This is surely the scent of a man and has that wood-musky feel to it that is classy yet raw. Every man jack is an organic deodorant and has all the right ingredients.
It is very capable of stopping and masking the body odor without creating any white residue or staining your clothes.
The scent of this deodorant is strong, but not overpowering. It manages to keep body odor at bay. Although, it doesn't do anything for sweat.
Its formulae helps to control the odor-causing bacteria, by balancing the pH level in such a way, which is un-friendly for bacteria to survive.
If you are always in hurry than this might not be the deodorant for you because EMJ takes some time to dry completely. So, you have to wait for sometime before putting on the shirt.
These were some of the best deodorants for body control. This article covered each type of deodorant to address the needs of each and every individual.