Sweating is embarrassing and sweating like a tap is even more embarrassing.   The sweat patch in your underarms can give you a moment worth cringing for rest of your life.
Some people give argument that sweating is a natural process and there is absolutely no need to feel embarrass about it. By that argument it should be fine to fart in public.
How much you sweat depends upon many things, like genetics, health condition, environment etc. Most of these things are difficult to change.
But, thanks to the technology and research of many years, we have tools that are very effective when it comes to sweat protection, which is deodorant.
Best deodorants for sweat busting
Sweatblock antiperspirant – Clinical strength
It is one of the strongest deodorant for sweat protection. It falls under the category of clinical strength which makes it very effective.
One of the things that are distinct about these types of deodorants is that you have to use them weekly, i.e, you apply them once and you'll be protected from the sweat for the whole week.
You can take shower or exercise, nothing will affect its effectiveness. It basically contains a good amount of aluminium in it, which block the sweat pore and prevents sweating.
Sweatblock doesn't come in liquid or solid form, instead you get patches. You have to apply these patches in the area which is prone to sweating and remove after some time.
This is for people who have very serious sweat problem and who are tired of carrying sweat patches around the office.
Pitpourri Natural Antiperspirant Deodorant Lemongrass
It is always a good idea to keep a natural product in your arsenal. As people are becoming more and more aware, they are shifting more towards natural products.
Pitpourri is one of the few natural deodorants which is also a good antiperspirant. Although, don't expect it to be as effect as any chemical based strong sweat protection deodorant.
It manages to keep sweat at the bay to a decent level. It is specially for people who don't have very serious sweating problem and who like everything natural.
Once applied in the morning this product will be effective at least till the evening. Or, if you sweat a little more than a usual person, you can carry it around. The bottle is sleek and travel friendly.
Certain Dri Anti Perspirant Roll On
Certain dri is an unscented deodorant which makes it usable for both men and women. It is one of the best deodorant for sweat protection in the market.
Sweatblock(mentioned above) contains approx. 20% aluminium, this one contain around 15%, but this doesn't means it is not effective.
It can take care of excessive sweating problem for most of the people, and if it doesn't solve your problem, then only you should move to a stronger deodorant.
Tip: Many deodorants take time to adjust to your body, so don't reject this deodorant within the first week. At least give it 2 weeks to sink in properly.
The company guarantees 72 hrs of sweat protection, which is true for most of the people.
Dove Dry Spray Antiperspirant, Sensitive Skin
This is for people who have very sensitive skin. Like any other dove product this one is also very mild and gentle on your skin.
The company claims that it gives sweat protection for around 2 days, but that depends upon person to person. Although, day to night protection is a given thing.
Dove dry helps to repair and revitalise skin. Many people face the problem of darker underarms, due to a variety of reasons. This deodorant helps to whiten up the underarm skin.
The scent of this deodorant is strong and if over applied can be over-powering. If you are a cologne user you should apply this product keeping that in mind.
If your job requires really strenuous activities then you should opt for some other product. This product is good for low-medium level of physical activities.
Almay Sensitive skin Clear Gel, Anti-Perspirant & Deodorant
This is one of the cheapest clinical strength deodorant available in the market. It has 25% of aluminium, which is very high and allows robust sweat protection.
The USP of this product is that on the top of being so strong deodorant it is also hypoallergenic deodorant. A hypoallergenic deodorant is one which is tested for various kinds of allergies.
Unlike, many other clinical strength deodorant you don't have to use this one on the previous night to have full effect.
If you are always in hurry and can't wait till the deodorant completely dries off, then this one may not be for you. Because it is is gel, it takes a little longer time to dry.
Old Spice High Endurance Aerosol Pure Sport Scent Men's Anti-Perspirant & Deodorant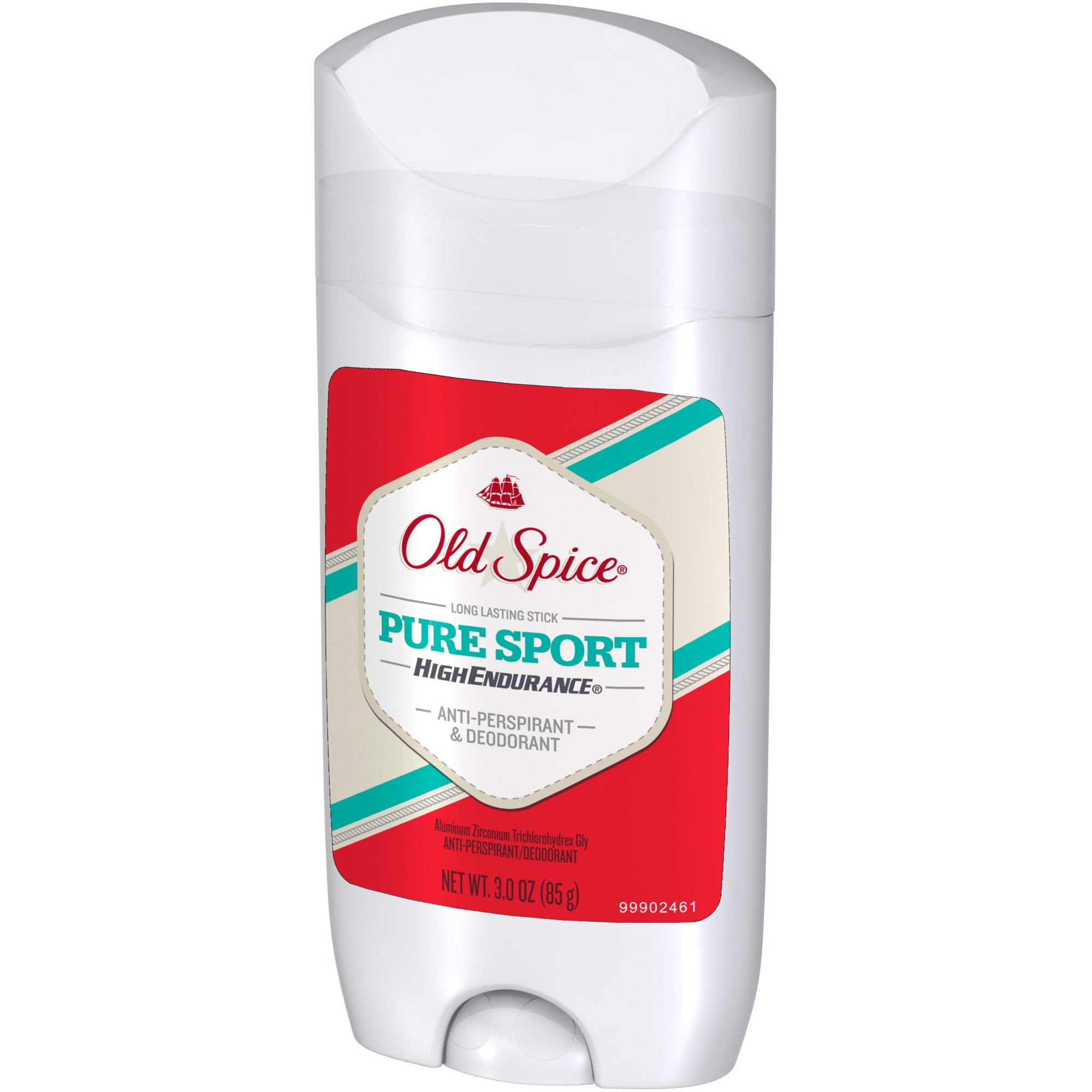 This deodorant is as a good antiperspirant as it can get, but what segregates this one from the rest of the members of this list, is its scent.
Old spice high endurance has this clean, crisp and sporty scent which is very refreshing and a delight in hot summer season.
There are quite a few perfume in the market that tries to give you that ultra-modern new age scent, but most of them fail.
At 3 bucks you are not only getting a good deodorant for sweat protection, but a nice perfume which can drive any women crazy.
The company claims that the scent of this product inspires you to climb mountains and make you feel like an astronaut. If this doesn't make you buy it, then nothing else will.
Axe White Label Antiperspirant, Forest Invisible Solid
Although, people are usually very sceptical about the products by AXE, but this is a different story. Axe white label manages low level to medium level sweating problem very effectively.
Most of the deodorant tend to leave residue behind, which looks disgusting, especially in your underarms. AXE deals with that problem nicely.
It is not a fragrance free deodorant, though the scent is very mild and won't interfere with your perfume. AXE is generally considered a man's deodorant, but this one can surely be used by women too.
Dove Men+Care Clinical Protection Antiperspirant Deodorant, Clean Comfort
We earlier saw a Dove's antiperspirant which was in the spray form, this is in lotion for, but it is as effective. The USP of this product is the amount of moisturiser it has used.
This deodorant is particular good useful if you have damaged skin from previous deodorant. Apart from that, the smell of this deodorant is not any short of awesome.
As like most of the clinical strength deodorant, the company advises it to use at night. But, if you don't have a serious sweating problem and you just want to feel dry all through the day, then you can use it directly in the morning also.
The lotion mix into your skin quickly and dries off quickly. The best thing about Dove Men+care is that it doesn't leave any residue.
Clear Gel Cool Wave Antiperspirant and Deodorant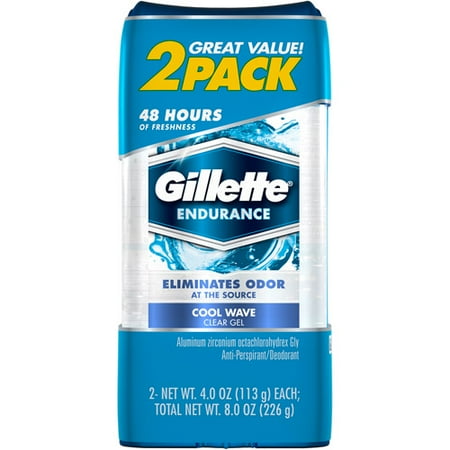 One of the cheapest deodorant that is available in the market, Cool wave is a product by Gillette. And, product from Gillette  have a signature scent.
This deodorant is no different. The scent of this deodorant is clean and fresh. Like, the aftershave is makes you feel sporty.
Now, as for the sweat protection, this deodorant should get full marks. If you sweat low level to high level then it is perfect for you. For people who sweat a lot might want to try a stronger deodorant mentioned in the list.
The company claims 48 hrs of protection. If you have an office job, which doesn't require hard labour, then it will be fine. But, if you have jobs that requires lot of physical activity, in that case, you should re-apply it every day.
Degree Women Clinical Antiperspirant Deodorant Cream, Stress Control
For those of you who don't know, there are different types of sweat , that your body produce. One type of sweat is produced when your body wants to regulate temperature.
Second, one is produced when you are under stress. Different glands produce different type of stress. Firstly, the stress sweat smell is disgusting.
Secondly, when you are using a general deodorant or antiperspirant to combat the stress problem, it might prove in-effective.
This deodorant is specially for stress related sweating and looking at the customers rating at various form, it is very effective for pretty much everyone.
It is little expensive than other products like Suave or Secret, but Degree is worth every penny.
Speed Stick Gear Overtime Antiperspirant Deodorant, Invigorate
There is nothing unique about this product. It is a good sweat protection antiperspirant, it lasts for 48 hrs. The smell of this deodorant is long lasting compared to other deodorants.
You can feel a mild scent of deodorant even after an entire day of work.
This deodorant does have a problem of leaving residue behind but it doesn't stain your clothes. The deodorant goes on very smoothly and mixes up quickly.
Make sure to use this deodorant carefully, using too much leaves residue. Experiment with different quantities and choose the optimal one, which will protect you from sweat while leaving minimum residue behind.
Degree Men MotionSense Antiperspirant Dry Spray, Extreme
Its name have motionsense in it, which the company claims is a technology which enhances the effectiveness of this deodorant when you move.
This deodorant has micro-capsules that burst due to the friction when you move, this means when you move a new spray of fragrance is released.
This technical detail aside, Degree men motionsense is genuinely a good product for keeping sweat and sweat-odour at bay.
As you can guess from the name, it is  dry spray, which means when you spray the bottle tiny particle of dry powder will come out. Try not to inhale it.