Deodorant is  both a necessity and a luxury. Now days, we have so many brands of deodorant that it becomes very hard to choose.
Secondly, the consumer have become very aware. The ingredients list is checked thoroughly before buying any product.
Still it is very difficult to find the product that suits us perfectly. And, the only way around this problem is to make your own deodorant.
In this article, we will see few different ways to make a deodorant. But, before that we will talk a little about the benefits of making your own home-made deodorant.
Reasons to make your own deodorant
It is Safe: No matter which store bought deodorant you choose. You'll never find a safer deodorant than your own home-made deodorant.
Cheaper: Most of the ingredients that we will use to make the deodorant are usually in your kitchen. Even if you don't have them, the ingredients will cost you much  lesser.
Satisfaction: The satisfaction that you'll get by making your own stuff, is simply priceless.
Make your own fragrance: As we will be adding essential oils to give our deodorant the desired scent. We can use a number of different essential oils to get the some new fragrance.
Feel like a scientist: When you will be boiling and mixing all those ingredients. You'll surely feel like some sort of scientist.
In this article, I will be sharing 3 home-made recipes. As the base ingredients are same I'll give the entire ingredients list at the beginning.
Ingredients that you'll need:
Baking soda: It basically acts as a deodorizer. I know some of you might be allergic to it. For those people, there is trick mentioned later in the article, which prevents itching and drying of skin.
Shea butter: Shea butter is very beneficial when it comes to dry skin. It retains the moisture of your underarms. And, it is not as sticky as coconut oil.
Beeswax: As the names suggests, it is made by bees. Beeswax basically properly solidifies the liquid and prevent the deodorant from melting.
Arrow root powder: It is used as a sweat absorber. Arrow root powder is very good for skin. It is used for healing wounds also. In fact, it got its name 'arrow' because it was used to treat arrow wound, in old days.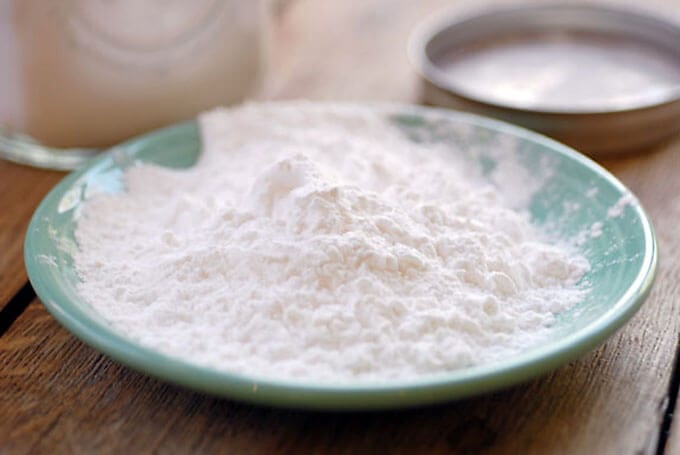 Essential oils: Essential oils are nothing but extract from different plants. This extraction is done using steam and boiling water. Essential oils are anti-bacterial, anti-inflammatory and they also smell great.
Coconut oil: Although, the job of coconut oil is similar to Shea butter. But, it is a good idea to add coconut oil and Shea butter in equal quantities to get maximum benefits.
Recipe #1 :
Step 1: Take two teaspoon of coconut oil and add two teaspoon of Shea butter.
Step 2: Add beeswax to the mixture, the amount of beeswax will depend upon the area you live or the climate. Hotter the climate, the more beeswax you'll need.It can range from half teaspoon to full teaspoon. 
Step 3: Put this bowl in the microwave or on a bigger bowl of boiling water. And, let it melt properly.
Step 4: Now add, arrow root powder.
Step 5: Add baking soda, half table spoon.
Step 6: And, few drops of essential oils. And, mix thoroughly.
End: Pour this mixture into the container you have and let it cool down!
Note: The essential oil or oils you choose is entirely up to your taste. You can mix a couple of oils to get some new fragrance.
This recipe was with baking soda. But, there are many people who are allergic to baking soda. If you are one of them, then, you can apply a mixture of vinegar and water to your underarms. It will balance the pH level to make your skin itch-free and moist.
Recipe #2:
As we are not using baking soda in this recipe. The deodorizing power of this deodorant will not be good. To make up for it, we will be adding more essential oils than previous recipe.
Step 1: Add Shea butter to the bowl.(2 teaspoon)
Step 2: Add 1 teaspoon of beeswax to it.
Step 3: Put the mixture into microwave. Until it melts
Step 4: Add arrow root powder.(6 teaspoon)
Step 5: Add 10 – 15 drops of essential oil.(Depending upon your choice) and mix properly.
End: Pour the mixture into the container.
Recipe #3
This is the simplest recipe for a home-made deodorant. You'll only need two ingredients to make this deodorant:
1)Baking soda
2)Essential oil
As I have said before Baking soda is for deodorizing and essential oil provides scent and other anti-bacterial properties.
There is no oil in this recipe, hence, you need to use more essential oil to bring down the viscosity of the mixture.
Step 1: Take baking soda(depending upon the size of the container you'll be using to store it)
Step 2: Now, start adding the essential oils. Make sure to count the drops while doing that.
If you are taking 4 teaspoons of baking soda, then 15-20 drops of essential oils will be fine.
What all essential oils you will need?
Now, let us see some essential oils. It is like making your own custom car by choosing the features from different car that are best for you. Some times you choose an essential oil for its scent and sometimes you choose an essential oil for its beneficial properties.
1)Juniper
2)Ylang- ylang
3)Eucalyptus
4)Lemon grass
5)Patchouli
6)Peppermint
7)Tea tree
Before, choosing any of them you have to do a little research by your self also. Some of them will be anti-septic, some will be anti-bacterial and some essential oils will have the scent of your choice. You can check out this wikipedia page to read about essential oils in detail and have more options.